Movie Consult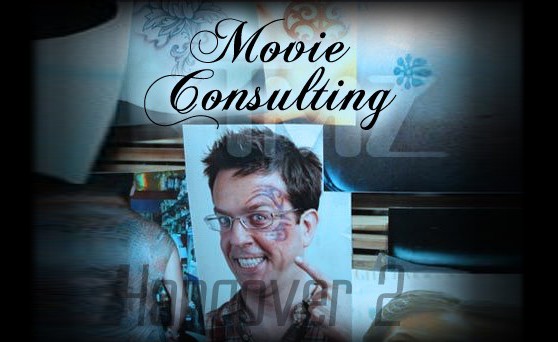 I have been in the tattoo industry for 20 years. My knowledge comes from owning 3 tattoo shops as well as managing 3 more. I have the experience and professionalism that ensures true to life tattoo scenarios. Any service related to tattooing and the tattoo arts is in my wheelhouse.
Our most recent consultation work was on the "Hangover 2" We were involved in all the tattoo scenes. We set dressed the tattoo areas, provided wall stencils and artwork as well as actor coached. The authenticity of tattoo scenes is what we stand behind in the industry. The actual "face tattoo" was applied by a make up artist.
Stencil Work
Hand Drawn and Temporary
I can provide on site hand stenciling as well as pre set stencils. Everything from initial design creation to day to day on site application. I use the highest quality temporary tattoo stencils with the highest realism.
Scene Consultation
From the shop set up to actor coaching and lingo. I will be on hand to discuss shot possibilities and all necessary questions. I will ensure a true to life tattoo scene.
Set Artwork
We provide framed tattoo art, tattoo portfolios, and other tattoo style art. I can also do on site paintings or large format murals. Anything on the set can be painted with tattoo imagery or art style.
Actor Training
We have seen too many movies and shows depicting tattooing and artists the wrong way. I will ensure that the actors know how to properly represent a tattoo artist and the tattoo process. I will train them in technique and shop lingo. We will ensure that nothing comes across "cheesy" or unrealistic.
Prop Set Up
As well as providing props we are available for prop placement and set up. instruction to actors in proper use and technique of tattoo equipment will be provided.
Set Decor
Me and my team can provide full decor including furniture for tattoo shop scenes. Tell us where and when and we will make sure it is authentic and designed to your ideas. We also provide several actual tattoo shop locations for studio rental.
If you have a location already I will provide necessary decor changes and recommendations to insure authenticity.
Equipment Rental
I provide all forms of tattoo equipment for rental purposes. All the necessary equipment to show a professional tattoo process. Tattoo machines, ink, power supplies, tattoo chairs, soaps, flash books, portfolios, etc. I can even provide tattoo artists, heavily tattooed customers, and tattoo shops for filming.
Logos and Branding
I will custom design logos and artwork for branding purposes. Anything can be created to us in for-ground or background areas. I can also design tattoos for actors to be used during their entire filming as well as Title Design.
Please contact me with any questions or to schedule time
sierracolttattoo@yahoo.com 858-736-5464