Consultation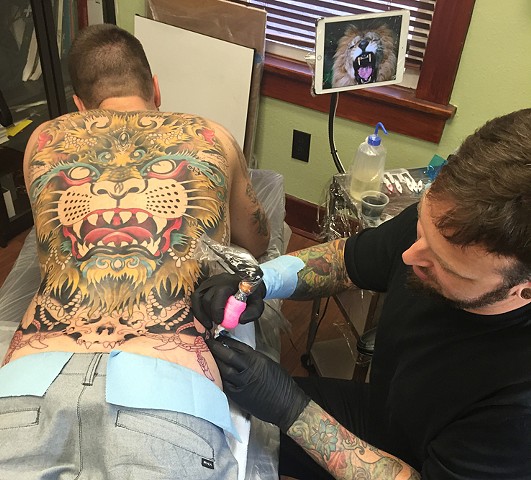 Clients and Collectors
Thank you for looking at my work. For a custom tattoo or painting send me your idea and availability to talk at bearcattattoo.com/artists/sierra-colt/
l like to start with a consultation where we will talk about your ideas and brainstorm a little. Then I will create it on paper and tattoo or paint it. Easy enough.
Currently in tattoo I am focusing on large scale ornate pieces. I am influenced immensely by Japanese art as well as ornamental depth focused creations. My art tends to fall in the Ornate Neo traditional/Japanese category but I am open to many things.
In painting I am very focused on realism and portraiture. I love painting hands and skulls. Animals and still life. Even flowers are of interest as well. I am exploring new directions in oil so please share your ideas.
If you like my work and give me the freedom to create we will have an amazing experience together.
If you would like something small or a simple collection tattoo you can share your idea with me. I am unable to take everything on but if it is something in my current focus I will definitely try and find you a spot. Some ideas are not necessarily a perfect fit for me. If I think it is better suited I will connect you with one of my artists that fits the style your looking for.
Be sure to bring in any photos, drawings, statues, pets, crumpled up papers you have been holding on to for years, or any other reference materials that will help describe your tattoo idea.
My rate is $200 per hour
Currently there is a 6 month wait out on all large projects but fear not it comes up quick! I do take consultation appointments every week.
I require a $400 deposit to get started on your tattoo sketches and secure your spot on my schedule. Your deposit is applied towards your design and stencil prep throughout your tattoo sessions with me.
My shop is Bearcat Tattoo Gallery in Little Italy of San Diego.
2419 Kettner Blvd San Diego, CA 92101 619-269-2979 bearcattattoo.com